Ensuring a resilient investment strategy for the long-term
The impact of COVID-19 has highlighted the need for schemes to think longer-term and embrace a resilient funding and investment strategy to ensure a smoother ride through turbulent times. Here we explore what makes a resilient investment strategy, with a case study on how Citrus has held up strongly over the past few months compared with traditional portfolios.
What makes a resilient investment strategy?
We believe that a resilient investment strategy:
Is one which is well-diversified and balanced across different asset classes in terms of risk and return drivers;
Subject to return requirements, targets a reduced reliance and exposure to volatile return seeking assets (e.g. equities) and increased reliance on stable, income generating assets (e.g. infrastructure and private lending); and
Includes a protection portfolio (e.g. leveraged LDI) to protect against changes in interest rate and inflation expectations.
Making use of the latest funds and innovations, schemes can take advantage of synthetic assets and enhance capital efficiency of their investments - essentially making the scheme's assets work harder and providing better value for money. At a time when schemes are increasingly becoming cashflow negative, this approach can help deliver significant and regular income which reduces transaction costs of disinvesting and helps to manage cashflow-related risks.
A resilient investment strategy in practice: Citrus case study
Citrus's investment strategy has helped member sections navigate the recent COVID-19 market environment in two key ways:
The Plan invests in a wide variety of different asset classes, meaning that the portfolios are less dependent on volatile equity markets in order to generate returns. Given the significant equity market falls seen in Q1 2020, the Plan's portfolio positioning across its investment range has helped mitigate the impact.
Capital efficiency. The Plan uses synthetic instruments such as synthetic equity, leveraged credit and leveraged LDI, which require a fraction of the capital to achieve the desired exposures. This helps with meeting the competing needs of generating enough returns through a balanced portfolio; while having enough protection (liability hedging) in place to help mitigate yield and inflation risks. Given the significant falls in yields experienced over recent months, the hedging framework in place has helped protect the sections' funding level as intended.
We've carried out some analysis of the Citrus investment strategy to show how it has performed over the first half (H1) 2020. The chart below illustrates the returns generated by two different Citrus portfolios over H1 2020, one targeting a higher expected return and the second a lower expected return.
We've compared the Citrus portfolios against more traditional investment portfolios that have typically invested in just equities and bonds:
'Traditional A' invests in Equities and Corporate Bonds; and
'Traditional B' invests in Equities and Index-linked gilts.
These traditional portfolios have been constructed so that they are expected to generate the same level of return as the comparable Citrus portfolios (i.e. as per the higher expected return and the lower expected return).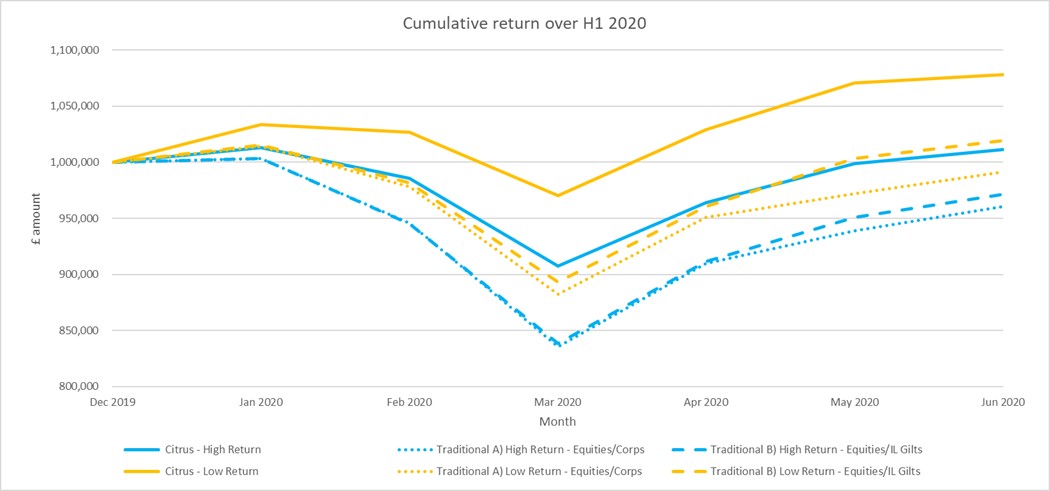 So how do the strategies stack up?
As can be seen from the graph, the Citrus portfolios (straight line blue and yellow lines) have not only outperformed traditional equivalent portfolios in total return over the period, but this has come through with a lot lower volatility noting by the size of maximum drawdown (this is the maximum observed loss from a peak to a trough of a portfolio – before a new peak).
The table below sets out the corresponding realised return against the expected returns, alongside the levels of interest rate and inflation hedging in place for each portfolio in the graph above. Each portfolio within Citrus targets a specific hedge ratio within the strategy framework, whereas for the traditional portfolios the level of hedging is typically as implied by the underlying bond investments.
 
 

Citrus - High Return

 Citrus - Low Return

 Traditional A) High Return – Equities/Corps

 Traditional A) Low Return – Equities/Corps

 Traditional B) High Return –
Equities/IL Gilts

 Traditional B) Low Return - Equities/IL Gilts

Realised return (over 6-month period)

 

1.1%

7.8%

-3.9%

-0.8%

-2.8%

1.9%

Expected return over cash (annualised, modelled)

 

2.8%

1.6%

2.8%

1.6%

2.8%

1.6%

Interest hedge

 

50%

85%

11%

28%

16%

44%

Inflation hedge

 

50%

85%

0%

0%

21%

56%
Schemes which were targeting a higher expected return experienced lower actual returns in general as markets and economies slowed down. On the other hand, schemes which were able to target lower expected returns and higher hedging generally fared well. Under both scenarios, the Citrus portfolios outperformed their counterparts.
Given the volatility experienced in the market since the start of the year, the results in the table highlight the importance of having a well balanced portfolio, which sizes up and appropriately manages the investment risks faced by schemes – risks from the various return seeking assets as well as risks from unhedged liabilities.
How can you achieve these outcomes for your scheme?
The advantage Citrus has over many standalone schemes is economies of scale. By pooling member sections' assets together, Citrus can access best-in-class managers and funds which smaller schemes struggle to invest in on a standalone basis due to minimum investment sizes or costs of investing – including private debt and infrastructure.
Investment strategies within the Citrus DB master trust are driven by a clearly defined funding and investment framework. The strategies are tailored to the needs of individual sections, based on the objectives agreed with each employer, and will evolve as schemes' circumstances and market conditions change. In addition to improving resilience to future shocks, a participating scheme could expect a c25% improvement in the expected return for each unit of investment risk taken – a very material improvement for both employers and members.
While moving your DB scheme into a master trust arrangement like Citrus could have many benefits, it's important to do thorough research and due diligence to make sure it is the right solution for your scheme.
If you'd like more information on the investment strategy within Citrus and how it can help improve your scheme's resilience in the long-term, please get in touch.