FAQs
Citrus is a long-established Defined Benefit (DB) master trust, one trust in which each employer has its own section.  
We help employers develop a clear strategy to achieve the objectives of their DB pension scheme. As a scheme created by employers for employers, we do this to deliver a better service at a lower cost, not to drive profits.
We know that we're stronger together – working as one we can achieve more for less.
DB master trusts are an efficient, affordable way for employers to ensure their DB scheme is taken care of in a quality pension plan managed by experts.
Employers transfer their scheme's assets and liabilities into their own 'section' of a larger DB trust, and then close down their old scheme. This consolidates the running of the scheme into the DB master trust alongside other former schemes and employers. There is no cross-subsidy of risk between different employers. The DB master trust will have its own advisers, and may also provide a new trustee board to support all of the sections.
A DB master trust is just one of a number of options available to employers with DB schemes to help reduce cost and ultimately improve the security of peoples' pensions.
Consolidation of DB schemes is a subject that's been gaining momentum and increasing amounts of attention recently. Due to high profile scheme failures and headlines about the plight of members, the prevailing view is that the DB market, particularly for smaller schemes, could function better if the inter-related factors of scale, poor governance and high costs are tackled.
As such, consolidation was a key plank in the Department for Work and Pensions' (DWP) White Paper, a core recommendation from the Pensions and Lifetime Savings Association (PLSA) DB taskforce, and The Pensions Regulator repeatedly highlights the regulatory challenges posed by small DB schemes.
Consolidation should be considered in the context of your long term strategy to identify the role it could play in your scheme's future, and understand which option may lead to the best outcomes for your particular scheme.
Moving to a DB master trust can significantly reduce the annual costs and strain of running your scheme, as well as enhancing the outcomes.
The costs of running DB schemes have soared in recent years. Despite UK companies committing billions in deficit contributions, most have seen deficits rise. Many schemes find themselves in a situation where costs erode asset outperformance, leading to higher cash contributions and no progress towards their end game.
Further to this, with legislative change and tighter regulatory scrutiny, employers with smaller schemes are faced with additional pressures and an increasing governance burden. This time commitment can divert attention away from running your business.
There are many benefits of moving to a DB master trust, particularly if the investment, advisory and administration fees are higher than average for your scheme. 
It is important to do thorough research and due diligence to ensure a DB master trust is the right solution for you. Contact us to discuss your scheme's strategy and the role a DB master trust could play in helping you meet your long term objectives.
Citrus has over 25 years' experience in delivering better outcomes to employers. The key benefits of joining include:
Reduced scheme running costs
Moving to Citrus can significantly reduce the annual costs and strain of running your scheme through cost sharing and lower fund management charges.[1]
[1] Source: Actual Citrus costs vs reported "average" costs from "Defined Benefit (DB) scheme running cost research", TPR, published April 2014
Strong governance
Experienced advisers manage the day-to-day running of the Plan, allowing you to concentrate on your business.
Not-for-profit approach
All income is reinvested back into the plan to enhance services, rather than make profit for shareholders.
Clear objectives for your section
We'll implement a strategy that's right for your scheme, and agree a level of involvement that's right for you.
Through sophisticated Integrated Risk Management; covenant, funding and investment risk are all managed by Citrus. With access to online reporting, you can easily track up-to-date funding levels, investments and risk analytics.
Making assets work harder
A key benefit of scale is opening up the universe of investable assets that are not usually available to smaller schemes. We've also worked with fund managers to develop innovative capital efficient investment strategies. These achieve the same returns but require less capital to do so, ensuring your assets work harder and deliver more value to you and your scheme's members.
Getting to buy-out sooner
Grouping sections together provides insurers with a more attractive proposition leading to lower buy-out costs.
Better service for members
Members have online access to statements and benefit information at the touch of a button.
We'll give you peace of mind throughout the joining process, with a tried and tested approach, managed by experts.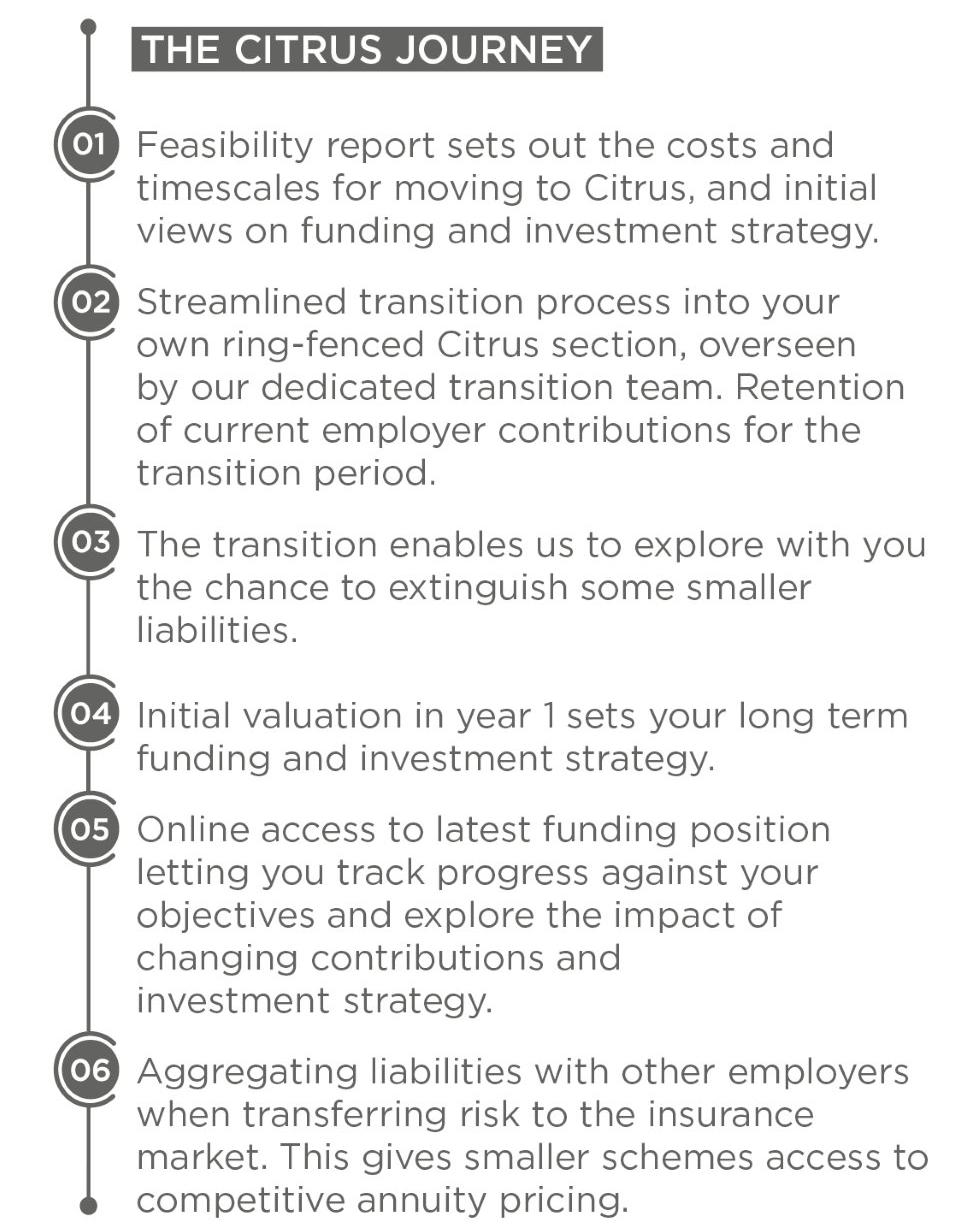 Citrus is supported by an experienced team of advisers who manage the day-to-day running of the Plan, allowing employers to concentrate on running their business. This offers a great benefit in terms of reduced governance for employers from not running their own trustee board, and having lighter-touch involvement going forward.
Employers joining Citrus can nominate a trustee to sit on the Trustee Board, but this is not a requirement.
Citrus allows employers to be as involved (or otherwise) as they want to be in the running of the pension scheme. 
While the Citrus Trustees can free up busy employers to focus on their day jobs, employers with specific objectives can still play an active role if they prefer, with our trustees and advisers working in partnership with them. This means employers can have considerable flexibility in setting their own funding and investment strategy if they wish.
There are several different approaches for moving your current assets into Citrus. We would then arrange for your assets to be invested in an appropriate way to support your funding strategy. We have a track record in delivering the same expected returns at lower risk than you currently run.
Our investment pre-transition plan will detail all the processes and timescales, always reducing out-of-market risks. We will set out who has responsibility for each aspect of the transition and prepare a post-transition report which summarises the activity carried out and the new asset allocation.
We work with your scheme's trustees and administrators to transition the administration of your scheme as smoothly as possible.
We would appoint a project manager and produce project control documents for implementation that set out the scope, project plan, key milestones and objectives of the project, including member communications and reporting to the Pensions Regulator.
To ensure members do not suffer reduced levels of service during the transfer of administration, we will work closely with the current administrators on the handover plan to cover the transition period.
The average time for moving over all the above aspects is around 4-6 months, meaning that you will be able to enjoy the benefits of a master trust quicker than you may have thought.
A master trust can be used as a stepping stone to your longer-term goals. Most schemes, especially those with closed sections, will (ultimately) want to target an insurance solution in future, allowing them to pass on all future costs and risks to an insurance company.
Citrus aims to achieve this objective around the time when we expect there to be only pensioner members remaining in a section – this is the point at which insurance solutions tend to be most affordable.
The multi-employer nature of Citrus means it is likely that we will be able to take a number of sections to the insurance market together as part of a package, making the transaction more attractive to insurers. This is likely to lead to a better price. It also means these sections will then be looking to wind up over similar time-frames, with the prospect of reduced wind-up costs through the sharing of fixed costs.
The wind-up process takes around 6-12 months and we would provide a detailed project plan throughout.
There may be other reasons for wanting to exit Citrus. The Trustee doesn't create barriers to leaving and is happy to engage in any proposals to leave. Exiting would initiate a similar process to joining; the approach is usually to make a bulk transfer out, provided that the Trustee is comfortable with the key areas of the proposal, and primarily that members' interests are protected.  There is no last man standing arrangement in the majority of circumstances.
Find out more about long-term objectives, such as buy-out, in our blog post.
Read our Statement of Compliance with the Citrus Pension Plan's Stewardship Policy for the year ending 31 March 2022.
The Trustee's Stewardship (voting and engagement) Policy sets out how the Trustee will behave as an active owner of the Scheme's assets which includes the Trustee's approach to;
the exercise of voting rights attached to assets; and

undertaking engagement activity, including how the Trustee monitor and engage with their investment managers and any other stakeholders.
The Plan's Stewardship Policy is reviewed on an annual basis in line with the Plan's Statement of Investment Principles (SIP) review which was last completed in June 2021.

Get in touch
If you have any specific questions, fill in our contact form to get in touch, and one of our team will get back to you.
Get in touch