Reducing the cost of running your DB scheme
The costs of running DB pension schemes have soared in recent years. According to Hymans Robertson research the c.5,500 DB schemes in the UK spend around £6.5bn-£8.5bn in running costs every year. And despite UK companies committing £billions in deficit contributions, most have seen deficits rise.
As such, many schemes find themselves in a situation where costs erode asset outperformance, leading to higher cash contributions and no progress towards their end game. Employers with smaller schemes face additional pressures, with an increasing governance burden and tighter regulatory scrutiny diverting attention away from running their businesses.
Working together to achieve more for less

DB master trusts offer employers a way of overcoming these challenges. Moving to a master trust arrangement involves the transfer of all the scheme's assets and liabilities into a section of a larger DB trust, and then closing down the old scheme.
Through accessing the benefits of scale and sharing costs with other employers, joining a DB master trust can significantly reduce the burden of running a DB pension scheme, particularly for employers of smaller schemes.
Sharing the costs
Cost savings can be realised in a number of key areas. Firstly in terms of administration, costs are shared amongst the employers in the scheme, reducing the individual cost to each employer. This includes charges associated with producing annual reports and accounts, actuarial valuations, auditor fees and Trustee meetings.  Secondly, through economies of scale, investment charges are also reduced, with an estimated c.0.25% reduction in investment manager fees per year.
Below we compare the Pension Regulator's (TPR's) analysis of average scheme running costs with the cost of running schemes of equivalent size in the Citrus DB master trust.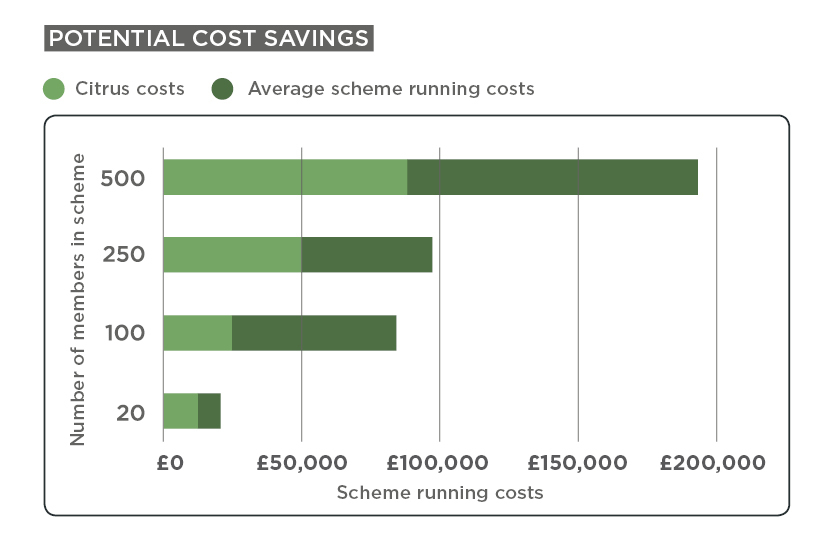 Source: Actual Citrus costs vs reported "average" costs from "Defined Benefit (DB) scheme running cost research", tPR, published April 2014
As you can see, running costs can be reduced over 30% by moving to a DB master trust. This could make a significant difference to an employer's bottom line. 
Cost savings are greatest particularly for schemes paying above average investment, advisory and administration fees. You can benchmark the running costs of your own DB pension scheme here through tPR's comparison tool. 
Is a DB master trust right for your scheme?
As with all forms of consolidation, it is important to do thorough research and due diligence to assess whether a DB master trust is the right solution for your particular scheme.
For more information on DB master trusts and how Citrus could potentially help your scheme, please contact us.